The Electronic Logging Device ruling has been finalized, appeals have been made, and the compliance date is right around the corner. With much of the focus on how carriers can comply with the mandate, we wanted to take a moment to share what shippers and receivers can expect and do to help with a smooth transition.
ELD Mandate Overview
To give you a refresher, the ELD mandate is intended to help create a safer work environment for drivers by reducing the amount of driver fatigue that leads to unsafe roads. ELDs will make it easier and faster to accurately track, manage, and share records of duty status (RODS) data. The ELD will sync with the vehicle's engine to automatically record drive time resulting in more accurate hours of service (HOS) recording.
The new ELD rule is being implemented in three phases, as shown in the Federal Motor Carrier Safety Administration (FMCSA) graphic below: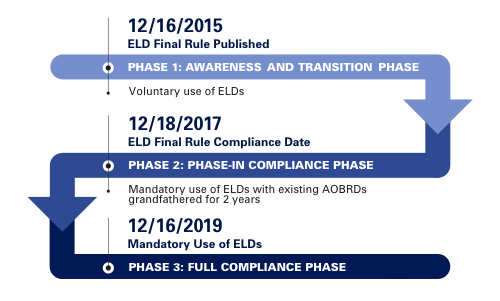 Although the final ruling was published two years ago, driver concerns are far from being settled.
Why Drivers are Concerned
Driver concerns about the ELD mandate vary across the board, from impact on pay to managing shipper expectations and everything in between.
Personal Safety
During an "
ELD Media Blitz
" rally that took place around the country on December 4, 2017, drivers expressed concern for personal safety saying that the ELD rule may negatively affect drivers' decisions about when to take a needed rest. With the 14-hour rule being further implemented by ELDs, there may be an added pressure to continue their run given the disincentive to stop and lose time. Another concern fell to those that haul munitions or other highly sought-after freight. The introduction of a third-party e-log providing exact location of a driver and their freight may cause driver concerns about personal safety and risk of cargo theft.
Shipper Expectations
To meet the high demands from shippers, it isn't unheard of for drivers to exceed the legal hours per week. With the ELD mandate in place, meeting these demands will be nearly impossible and not meeting these demands because the clock has expired may result in violations and large fines. Adjusting delivery expectations to align with HOS rules will help relieve driver stress and save in fines.
Cost
Many owner-operators are largely concerned about losing revenue after ELDs are implemented. Due to decreased revenue, drivers may feel more pressure which may lead to unsafe driving environments, such as speeding, tailgating, and passing.
What You Can Expect
With the ELD mandate deadline fast approaching, there is no doubt that the transportation industry will experience some drastic changes. Here is what you can expect:
•Tightened Capacity – Industry sources predict that shippers can expect 4-7 percent impact on capacity.

•Increased Haul Times – Lanes that fall into the 450- to 600- mile bucket could become two-day hauls due to HOS enforcement. Expect the one-day increase with 900- to 1,200-mile hauls, etc.

•Increased Rates – As driver mileage decreases, demand for higher pay per mile to compensate will cause increased rates, especially with smaller carriers.

•Driver Shortage – Owner-Operators and small fleets may opt to close their doors due to cost of implementation and other concerns.

How You Can Help
So how can you and your team help with a smooth transition?
•Make sure lane and delivery expectations align with HOS rules, and be aware that asking for more can violate FMSCA's driver coercion rule.

•Develop procedures and policies to increase efficiencies and decrease load and unload times.

•Provide some flexibility with appointments. Run an accessorial report to determine where changes need to be made.

•Provide designated parking for drivers who may not be able to drive to a nearby facility for their mandatory breaks.

•Use a reliable 3PL like Trinity Logistics to help manage your supply chain.