Trinity Logistics was built on the belief that we should enrich the lives of those we serve. While this includes Team Members, Agents, shippers, and carriers, it extends far beyond the walls of Trinity, from local community organizations to those overseas serving our country.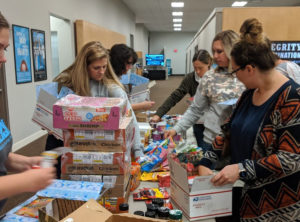 Trinity is honored to make an impact on those people serving to protect our country. Each year, we provide care packages for men and women in the armed forces who are deployed during the holidays. Trinity Team Members donate needed items and pack them in care boxes. These boxes include everything from snacks, socks, hygiene products, other necessities and treats. Each box includes a handwritten note of appreciation. This year, approximately 50 boxes will be sent overseas. Jen Hoffman, the Program Coordinator, shared her statement about this year's effort.
"This was an exciting year for Operation: Trinity Cares. The Trinity Logistics team joined with Burris Logistics in item donations. We are even sending a care package to a current Burris Team Member who is deployed! This project is incredibly special to our team. We hope that the care packages are received with as much love as we put into them year after year."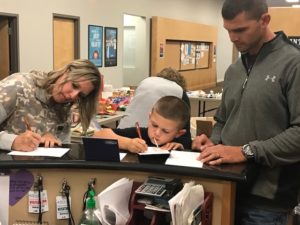 In addition to supporting those serving overseas, on this day Trinity takes the time to honor our Team Members who have served in the United States Military. Each year, we take the time to recognize our Team Members with a special gift. We are honored to have amazing people like these men and women on our team. Trinity's culture is built upon servant leadership and who would know that better than a Veteran?
"At Trinity, we believe that Veterans often make some of the top performing Team Members," said Megan Morgan, Vice President of Team Operations. "Their experience in high pressure situations and service to something greater than themselves has a direct correlation to our culture of servant leadership."
As Trinity Logistics continues to grow, we pride ourselves on our dynamic culture and inclusivity. Through continuous company wide diversity training or hiring veterans, we look for one thing in our Team Members: people who are looking to enrich the lives of others. To learn about how Trinity is Different on Purpose, visit our careers page.