Of all industries, the food industry needs data and visibility in the supply chain readily available when it comes to their shipping. Many food products are perishable and need to deliver in a specific timeframe to be able to be used. Recalls and claims can cost a lot to a manufacturer, causing them to lose revenue. The technology to keep data easily accessible can also cost quite a bit. Yet, food manufacturers outsourcing to a 3PL can gain benefits outside of just having their shipments arranged.
Quality Food Products Delivered
No matter the type of food – raw, cold, frozen, canned, produce – it all has a sell-by date and a proper way to be handled. Your customers want the best-looking product with the longest shelf life available when delivered. Having visibility into your shipping offers you insight into your product's quality and helps you keep your customers happy.
FSMA & Recalls
The Food Safety Modernization Act (FSMA) and the rise of recalls adds in extra pressure for the food industry to have visibility. If food is not handled safely, you can face criminal penalties. Additionally, no one wants to be faced with the adverse publicity and expense of a recall. According to a study by the Food Manufacturing Institute and Grocery Manufacturers Association, a company faced with a recall can expect an average of $10 million in direct costs, in addition to the damage to their brand and lost sales.
Visibility Is Important In The Food Industry
Visibility in the food supply chain is becoming something that is moving from the Wish List to the Required List. A shipment's whereabouts are critical in determining actions that may be needed to provide the best customer service and make sure products are delivering intact and on time. Sophisticated brands are ditching their manual and time consuming processes and replacing them with technology to operate more efficiently while gaining more visibility into their operations than before. With food safety always in mind for this industry, there is a big advantage for those with end-to-end visibility into their operations. But technology comes at a price.
Shippers need to work with strategic vendors who can provide them the technology tools needed for full visibility. They need to choose vendors who can put into place those tools and manage control when necessary to keep operations moving and to stay competitive in the market. To reduce costs and gain a helping hand, food manufacturers can choose to outsource to a 3PL for both their transportation needs and technology.
Technology 3PLs Offer
We all know that outsourcing to a 3PL reduces the stress and workload of finding a carrier to move your freight. 3PLs such as Trinity Logistics, take over the responsibilities of vetting the carriers they work with, making sure they have the proper credentials, insurance, and experience for your freight. But they also offer you access to their technology for all sorts of needs. Technology to track your shipment from pick up to delivery, to automate workflows, engage in collaboration with supply chain partners, and more.
Transportation Management Systems
Download this whitepaper for your ultimate guide to TMS, and how it can help you grow revenue, manage costs, mitigate risk, and gain efficiencies.
One such piece of technology offered are Transportation Management Systems or a TMS. A TMS can help your business gain visibility into your supply chain, create new efficiencies, and automate your manual workload, so you can focus on keeping your customers happy and the orders coming. When using a 3PL, such as Trinity Logistics, you often have options to choose in how you want to integrate your TMS. With Trinity, we offer you a choice of:
Software as a Service (Saas)
Managed Services
Integrated TMS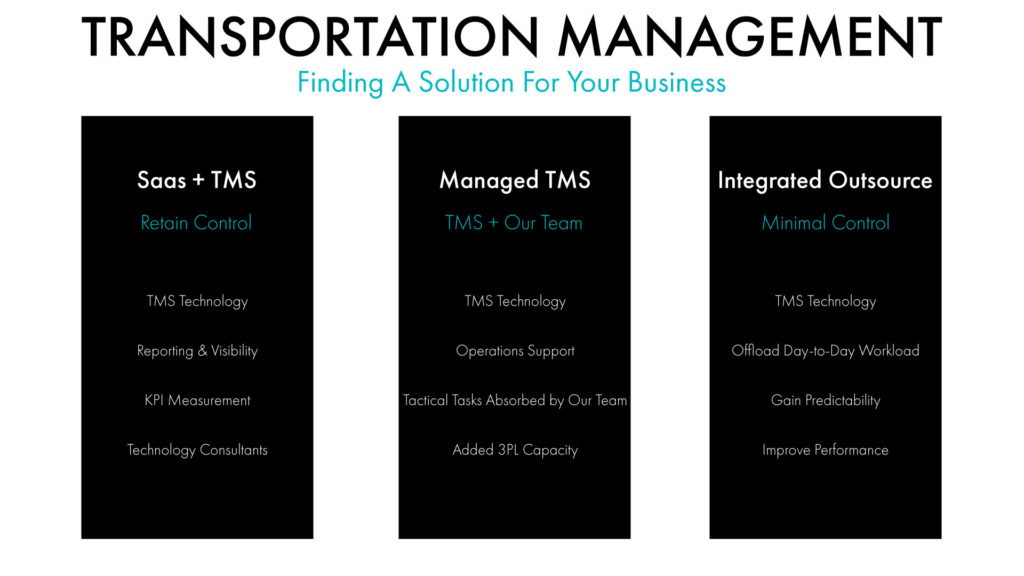 You get to choose how integrated you want the technology to be with your data and get a specialist to work with you every step of the way. No matter what option you choose, you gain the visibility you are looking for in your supply chain.
What Are You Waiting For?
As a food manufacturer, you need to track your supply chain to stay efficient and safe. Gaining supply chain visibility with technology is needed to stay competitive in your industry and outsourcing to a 3PL can reduce expenses for that investment. Taking advantage of their technology offerings, such as a TMS, can provide you insight and improvements.
Trinity Logistics is well-versed in the food industry and understands your need for visibility. Our team of experts is here to help you manage your operations, offer you the data you want, and give you the choice of how you want to integrate that technology and receive that data.