Trinity Logistics, a Top 20 third-party logistics company, today unveiled its rebranding to reflect its growth into an innovative and agile company, part of Burris Logistics. The company, acquired by Burris Logistics in April 2019, wanted to update its visual brand to reflect its new identity better. 
Sarah Ruffcorn, President of Trinity Logistics, said, "As we looked at the branding and go-forward strategy for Trinity Logistics, we knew we wanted a modern logo that reflected our strength and position in the marketplace. We feel as though this new visual identity sets the framework for the integration of all Burris brands." 
"Our brand has 40 years of history. Each logo iteration has held meaning to our founders and Team Members who have been here through the transitions," said Brittany Siegel, Director of Marketing. "We wanted our new logo to showcase our identity while honoring the legacy, our client relationships, and the nature of our business." 
A Look at Trinity's Logos Over Time
1979: Founded in Cambridge, Maryland by Ed and his wife, Deana Cox Banning. The first logo.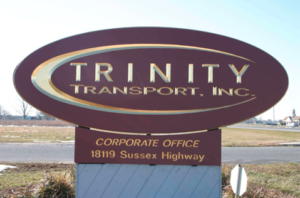 2001: Trinity's logo changes to the trademark burgundy swoosh.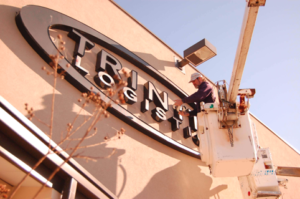 2012: To reflect our growth over time from a truckload brokerage into the world of the top logistics companies, we changed our name from Trinity Transport to Trinity Logistics.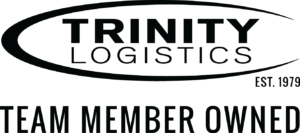 2017: Trinity Logistics gives a special gift to its Team Members by announcing the company becoming an ESOP, declaring themselves Team Member Owned.

2019: Trinity Logistics becomes part of the Burris Logistics family.
Today:  A modern take on the logo, reflecting the new identity of the company, as a Burris Logistics company, with some of the legacy logos' elements tied in.
"Burris Logistics is entering a new decade with a renewed dedication to creating a complete suite of brands offering a comprehensive solution for shippers and retailers," said Bobby Bailey, VP of Marketing of Burris Logistics. "The Trinity rebrand is paving the way for our future brand architecture with a unique design that connects with the other Burris Logistics brands."
Trinity's new logo identity and updated modern color scheme better appeal to the company's position in the marketplace, its offerings, Guiding Values, and legacy. The rebranding will include a complete redesign of the company's website to come Spring 2020, logo, photography style, updated collateral, and a clear representation of the company's offerings. 
"Trinity Logistics has a great history, a great story, and great meaning already built into the brand; there was a lot for us to work with as we were developing their mark." Said Cris DaBica of Francisco, DaBica, and Friends. "Trinity's new logotype is a contemporary study in streamlined strength and surprise, combining solid proportions and characters together with subtle nods to the brand's multi-directional nature, and the routes it serves."
Trinity unveiled the new logo identity to its Team Members across the country through a video announcement from its President, Director of Marketing, and Burris Logistics' VP of Marketing. And as in Trinity fashion, Team Members were encouraged to celebrate the rebrand with cake and fun.
Click the link to watch our brand announcement video.